Well I did some more dyeing the other day. There was a competition thread on Ravelry and the theme was dip dyeing so I thought I'd give it a go.
I used three tubs each with different amounts of Black Cherry Kool Aid, then dipped roughly a third of the skein of wool in each (after soaking it). I let the colours work up the sections in between the tubs. It was then covered and microwaved to set the colours and left overnight to cool. Here's the result
After much debate I decided to go ahead and buy a niddy noddy so that I can reskein my dyed yarn. I was tempted to wait until
Woolfest
but curiosity got the better of me!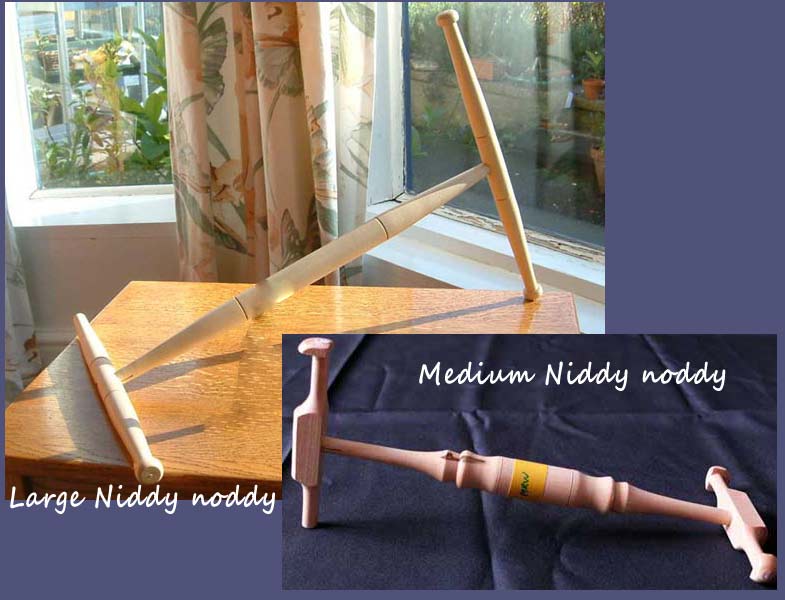 I got one of these beautiful ones (a large) from
Michael Williams
, who was very obliging and let my husband call at his house on a Sunday to get it.
So after reskeining, my dip-dyed yarn looks like this:
So the plan now is to reskein all the yarn I've dyed so far.
I also really, really need to do some more dyeing cos it's just soooo much fun. I did buy a second stock pot (i.e. now have 2 for dyeing in) but this one also has a steamer section in it so lots of experimenting to do. Am itching to find out what effect I'll get if I do one skein in a dye bath in the bottom of the pot and one skein steamed in the top if I do a base colour in the dye bath and then pour colours over the top skein and let them drip into the bottom.